CAN Quadrature Encoder Board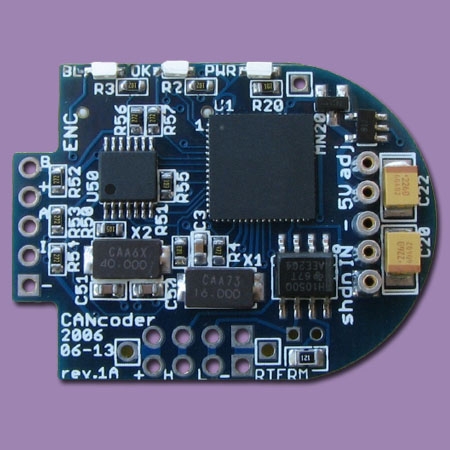 The CANcoder is an easy to use circuit board which counts incremental Encoder pulses and sends values to a CAN bus master. The circuit is suitable for mounting directly on an encoder to digitize the device. Factory-mounted CANcoders are also available.
The CANcoder communicates on the CAN bus with a minimal implementation of the CANopen CiA-406 protocol. It supports 32 bit 4x quadrature decoding, pulse counting, index pulse, and value preset functions. LEDs indicate node ID and communications status.
The device is powered from either 5 VDC power or an optional 6-16VDC DCDC mezzanine. The device has solder pads which allow easy chaining of devices. Device configuration is achieved either via the CAN bus or the RS232 terminal port.
PCB dimensions: 1.46 x 1.10" (37 x 28mm)
This device made with RoHS compliant materials.
Part Number: CCDR-1A
-contact us for quantity pricing-
Documentation
CANCoder Howto (pdf)
CANCoder EDS (txt)