Fiber-Serial Board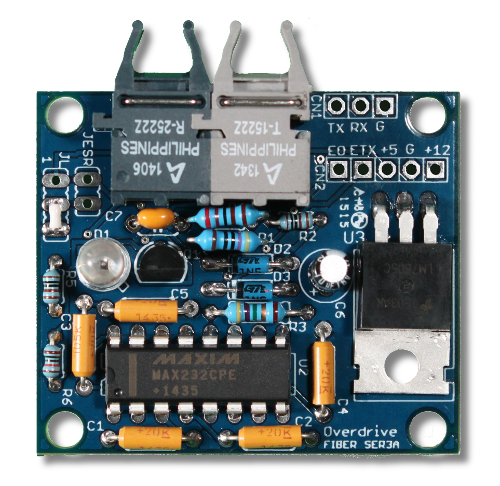 This Fiber Serial transceiver converts RS232 signals to fiber optic.
The version depicted above uses durable 1mm plastic fiber, the other version (below) uses glass fiber for long-distance runs.
The unit has been tested extensively at 115200bps, to over 160 ft.
This board can be used as a repeater, to extend transmission distance.
Suitable for GSA SAS serial protocol communications.
The unit can also be configured in Simplex mode to transmit isolated TTL/CMOS digital logic signals.
Specifications
Duplex Board:

Simplex Board:

Power input:
5 VDC, 6.7-15VDC w/ added regulator
Dimensions:
1.5" x 1.75" (38.1mm x 44.45mm), plus connector
Cables:
USB (5V) power cable can be added, DB9 RS232 cable can be added.
Glass-Fiber-Serial Board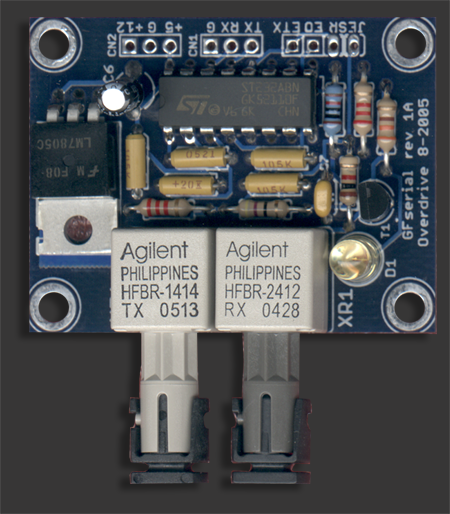 The Glass fiber transceiver above is typically used as a bidirectional RS232 extension. Bandwidth is up to 5 mbit and can transmit 2000 feet on multimode glass fiber.

Part Number: GFB-SER-1A



Documentation
Fiber Board Howto (pdf)